This is JEK Motorcycles – welcome
I established www.jekmotorcycles.co.uk in order to give a reliable, friendly, competitive and complete service. My aim has always been to give the type of service that my customers want, completed on time and at a reasonable price.
With more than 40 years experience in the repair and maintenance of all type of bikes, JEK Motorcycles has what's necessary to provide a complete in-house service, from the installation of a new indicator bulb right through to a full ground-up restoration. In addition, I work closely with other carefully selected local and national businesses and highly skilled tradesmen, so that JEK Motorcycles can provide just about everything to service the motorcycle community.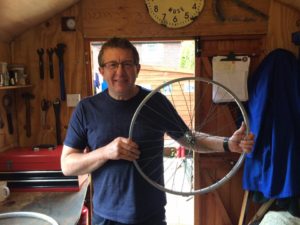 We can fabricate custom parts, one-offs and non-standard items we can even make those parts that are sometimes impossible to get. We can make radiators, exhaust systems, silencers, air boxes and much more. We also have the capability to weld most metals, including, cast iron, mild steel, stainless steel, inconel and aluminium. We can repair broken or cracked engine cases and even cooling fins.
We only use good quality genuine and pattern parts, fluids and consumables when we do any work, this ensures that we only need to do the job once, which we think develops a sound ongoing relationship with our customers. With that in mind, we will not do any work or replace any parts on a customer's bike without prior discussion and agreement with the owner.
This is a firm run by motorcyclists for motorcyclists, we are experienced, plain speaking straightforward local people who have a desire to provide an honest service.
Our real passion is for the older classic and vintage bikes, with a real leaning towards off road machinery, however we want to be able to look after any and every type of bike.
In addition to the maintenance and servicing we do operate a spares and accessories shop where you can purchase a broad range of products if you want to do the work yourself.
Please call in to JEK Motorcycles Unit 5, Willoughby Place, Millfield Trading Estate, Chard, Somerset, TA20 2BB. We would like very much to meet you and discuss your biking needs over a cuppa.
Ride safe
Ed King.